Shop with Confidence

Quantum Nutrition Labs & Misc.




Vitalzyme 360 Vcaps
New Product!
The most popular vegetarian-based systemic enzyme supplement in the world; Healthy response to inflammation

,

Healthy joint function

,

Sports injury recovery and healing

,

Supports fibrin metabolism,

Healthy C-reactive protein levels
Vitalzym 360 Vcaps
Extra Strength Systemic Enzyme Dietary Supplement

Feel Great, Look Better, and Increase Health span with Systemic Enzymes
Enzymes are said to be the "sparks of life." They are considered keys that can unlock the door to a healthier you because they help improve digestion and nutrient absorption while maintaining millions of bodily functions.
Vitalzym contains potent proteolytic enzymes designed to support health. It is an extremely effective systemic enzyme blend with a high serrapeptase content. Vitalzym works synergistically to provide total system support. According to Dr. Peter Streichhan, a world-renowned enzyme researcher from Germany, "enzyme mixtures have a wider range of therapeutic advantages than do individual enzymes."1
Vitalzym is specially engineered to help support:
breakdown of excess tissues and proteins
healthy inflammation response
healthy blood sugar levels
healthy immune system function
healthy joint function
break down fibroids/scar tissue

bio films
joint issues
pain
inflammation

and so much more
Vitalzyme

Extra Strength Systemic Enzyme Dietary Supplement
Vitalzym Extra Strength contains potent proteolytic enzymes designed to support health and promote healing and repair. It is an extremely effective systemic enzyme blend with a high Serrapeptase content.
Vitalzym Extra Strength softgels are the world's leading all-natural, vegetarian systemic enzyme supplement. Vitalzym features an unmatched proprietary blend that includes Serrapeptase, Bromelain, Papain, Rutin, Amylase, Protease, Lipase and Amla Extract. These softgel capsules are available in 60, 180, and 360 count bottles.
Vitalzym is the only systemic enzyme on the market today boasting the revolutionary enteric-coated, liquid-gel delivery system. Unlike many of the competitors' tablet or powder-based products, Vitalzym's enteric-coated, liquid-gel system ensures that 100 percent of the enzymes survive the harsh acidic environment of the stomach and reach the small intestine, where they become available for absorption into the bloodstream and then are dispersed throughout the entire body.†
What does this mean for you? Bottom line, you'll be enjoying a smaller, easy-to-swallow capsule, taking less capsules per each dose and less doses per day to receive maximum systemic support. Thanks to the advanced delivery system, superior potency, unrivaled absorption rates, and reliable consistency of Vitalzym you won't need to wait three months to see results.
Vitalzyme Dosage
As a dietary Supplement, take 3 capsules daily, or as directed by a healthcare professional.

Warning: Do Not take this product without the consent of your healthcare professional if you are currently taking anti-coagulants. Discontinue use 2 weeks prior to surgery.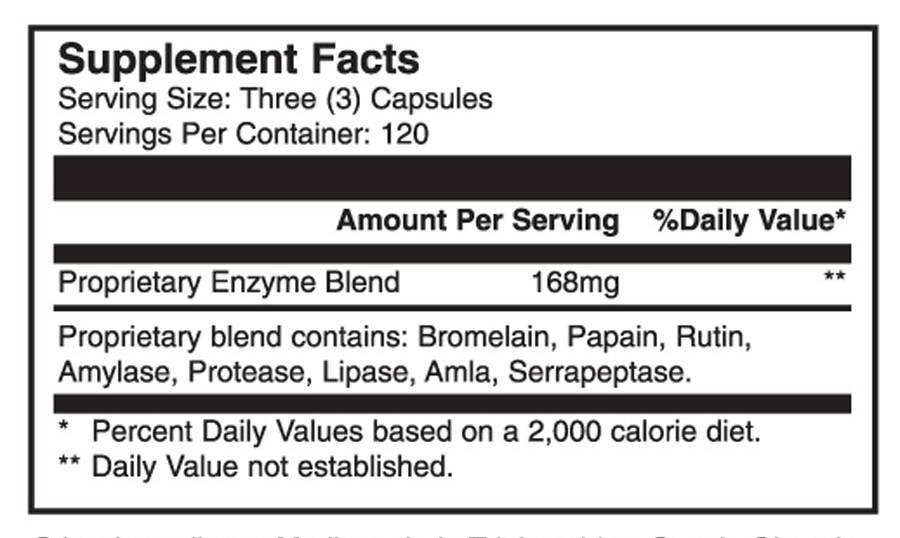 Ingredient Notes:
* The corn protein (pH resistant enteric coating), which is derived from non-GMO corn, is part of the enteric coating around the capsule, and comprises less than 1% of the total product. There has not been a single report of an allergic reaction due to the corn protein in Vitalzym, but we suggest that if you have concerns about allergies please contact your healthcare provider regarding your own personal sensitivity levels prior to taking this product. Corn protein was chosen over commonly-used phthalates (a dangerous plasticizer) for the enteric coating of the Vitalzym capsules.
** The soy lecithin acts an emulsifier, and is only in trace amounts - less than 1% of the entire product. Testing of soy lecithin has confirmed that no phytoestrogens are delivered to the body, and therefore there is no impact on hormones. People with a soy allergy have never reported any issues with Vitalzym capsules.
Vitalzym is natural and 100% vegetarian. It contains no artificial flavors, artificial colors, yeast or gluten. Vitalzym is also lactose free and contains no harmful talc.
Supplement Facts
Serving Size: Three (3) capsules
Servings per container: 120
Amount per serving: 168 mg **
Proprietary Enzyme Blend: 168 mg *
Bromelain, Papain, Rutin, Amylase, Protease, Lipase,
Amla, Serrapeptase.
*Daily Value (DV) not established
Other ingredients: Medium Chain Triglycerides, Starch, Glycerin, Polysaccharide, pH resistant Enteric Coating, Beeswax, Glycerin Fatty Acid Ester, Soy Lecithin, Citric Acid.
| | | |
| --- | --- | --- |
| Average Rating: | | 0.0 |



The world's first natural-source B vitamins made from probiotic fermentation Our Best Selling product. You will love it!








Stress Support


Quantum Stress Support (formerly Adaptogen) is a true breakthrough in energy enhancement that can rapidly produce ideal cellular resonance for great vitality and increased energy.* Adaptogens are a powerful way to re-establish harmony in the hormonal, energetic, metabolic systems of the body.*







Adrenal Support




In our fast paced lives, stress can lead to increased illness, and rapid aging. Protect yourself with Quantum Adrenal Support, featuring grade 10 cordyceps, the best for anti-stress and burned out adrenals.









* No Magnesium Stearate,

a toxic hydrogenated oil proven to suppress the immune system

* No Animal Glandular's,

with toxic tag-alongs and animal death hormones

* No Tablets or Gelatin Caps

, with toxic tag-along binders and fillers

* No Excipients,

highly questionable (often toxic) fillers and binders called excipients are commonly added to nutritional products

*No Corn, milk, soy, white salt, white sugar, wheat, yeast, artificial colors, flavors, preservatives, or gluten.

100% Living Source

-

No Synthetics!

100% Solvent Free Vegetable

Cellulose Capsules